Serj Tankian Explains the Message Behind the Shows
29 декабря 2014
---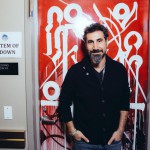 One of the most anticipated sets of this past weekend's KROQ Almost Acoustic Christmas was the 2014 live debut of System of a Down, who used the show as a warmup to a 2015 tour. Fans continue to hold out hope that the 2015 dates will lead to new music from the multi-platinum hard rock quartet, the first since 2005's Hypnotize.
If that is the case, frontman Serj Tankian isn't saying. In fact, he has made clear he is tired of answering the question. When Billboard jokingly says we won't ask him about new System music unless he has exciting news to report, he laughs and says, «Thank you.»
In the decade since SOAD last recorded music, Tankian has been a composer in classical, jazz and film scoring and worked with orchestras and as a painter. Basking in his creative freedom and renaissance, Tankian is happy to continue to explore.
«To me, it's all music. I'm scoring a film right now. Before that, I was scoring a docudrama. Before that, I did a video game. I'm really enjoying scoring work, using orchestral elements, jazz elements and whatnot, rock elements, whatever the visuals require. It's a new phase in my musical evolution as a composer,» he told us in the Forum hallways. «To me, it's all the same, coming and playing the shows. I worked in the studio today composing, got in the car to come play here. It's all music — one is in front of a big audience playing with instruments with a lot of subs in your ears, and the other isn't. That's literally it.»
But Tankian is well aware that the commercial success and influence of System affords the band a lot of opportunities to express the beliefs that are important to him and his longtime bandmates. Case in point, the 2015 dates have a very deliberate message.
«We are doing a tour called 'Wake Up the Souls' to further spread awareness having to do with the Armenian genocide, first genocide of the 20th century and put pressure on the Turkish Parliament to kind of come to grips with its own history and deal with the massacres of the first world war,» he said. «We've done the soul shows before, and this is kind of a growth of that. It will be the first time that we played in Armenia in Republic Square, giant free show, we're gonna televise that around the world, or stream it, whatever you want to call it. So it's gonna be really unique and beautiful, and so we're looking forward to it.»
The band just announced an April 6 date in Los Angeles at the Forum. That will be part of a very brief run. «We're only doing eight dates, and they're all World War I countries in some ways, which is interesting.»
To Tankian, the actual concerts are a very small part of delivering their message. «The show itself is only one part of the message, because the streaming worldwide of a show in Armenia having to do with the genocide, the press around it, the press conferences we're going to do in each major capital around it, that's going to reach probably more people than actual ticket-holders at the show,» he said. «That said, we've talked about this many times: Music's power of transcendence having to do with reaching people's consciousness is unique. It's an incredible thing, and you know I've always paid attention to it and respected it.»
As he's gotten older, Tankian has found role models he admires for the way they mix music and social consciousness. «I didn't have musical heroes growing up; now I do. I look back at someone like John Lennon, his simple words, 'War is over' for example, the idea of visualization combined with music, combined with that type of audience is genius. And all he was doing is following his vision and being true to himself, which hopefully all artists are,» he says. «Bob Marley was genius too, making people dance to socially conscious music is like doing two things simultaneously because the motion of dance is a positive spiritual existence. And getting the messages through at the same time is incredible.»
Source: billboard.com